Best Upfits for RAM Commercial Trucks
RAM commercial trucks are made to last and be incredibly versatile, helping businesses in a range of situations. To make the most of a RAM commercial truck, we suggest choosing a model with an upfit or having one installed on your commercial truck. There are dozens of companies around the country offering upfits for these RAM trucks but some of them stand out from the others. Take a closer look at the best upfits for these commercial trucks.
Knapheide RAM Commercial Upfits
Knapheide Manufacturing Company has a truly impressive history spanning 170 years, making it among the oldest companies in the industry. This rich history began in 1848 when the family company began building wagons. Over the years, Knapheide has gone through six generations and has continued to use advanced processes, the best workforce in the industry, and superior products. Now, Knapheide produces many different upfits for vehicles, including the RAM commercial trucks.
Among the most popular upfits from Knapheide is the Commercial Service Body for the RAM 4500 or RAM 5500. The Standard Service Body from this upfitter includes adjustable shelving and allows for further customization with your choice off storage options. Included is a double-panel door construction along with stainless-steel rotary latches for the security of cargo. Expect heavy-duty construction and engines along with several comforts like satellite radio, a touchscreen, power and heated tow mirrors, and a rear backup camera.
In addition to service bodies, Knapheide produces a range of bodies, including: KUV, platform, dump, forestry, and gooseneck, in addition to trucks for: mechanics, fuel lube, and water. The company also produces truck caps, and van equipment.
Reading Service Upfits
Another reliable upfitter for RAM commercial trucks is Reading. This company has been part of the industry since 1955 and it was responsible for introducing the construction industry to the idea of a service/utility truck body. Reading relies on precision manufacturing processes and quality materials, including an environmentally friendly bath to prepare the truck body for its E-coat primer, as well as the powder coat finish system, allowing for a long-lasting finish. All of Reading's products are fully made in the United States, all with advanced manufacturing techniques and premium materials.
The most popular RAM commercial truck upfits from Reading are the Reading Service Bodies. Among these is the Reading Aluminum Classic Service Van (CSV), which delivers fuel savings up to 10% along with improved payload capacity. The CSV from Reading has its own exclusive features, such as the zinc phosphate bath that improves the adhesion of the powder coat, patented hidden hinges, SmartLatch stainless-steel locks featuring paddle handles, and Dual-Pro door seals. There are also many comforts like a touchscreen, navigation, Bluetooth, and a rear parking camera.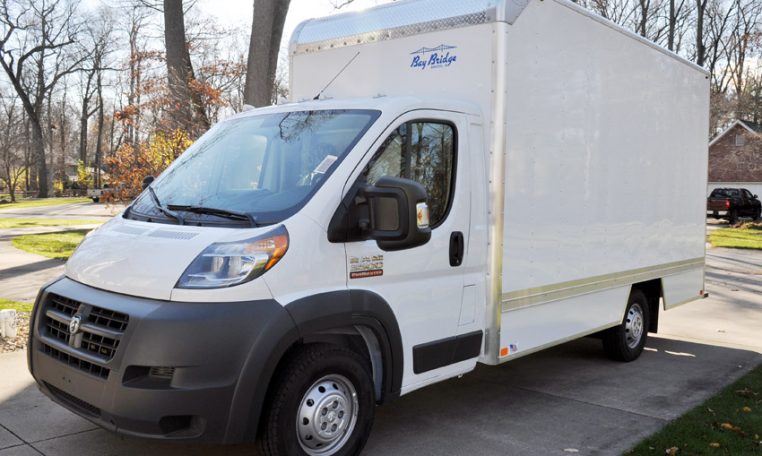 The Reading Classic II is also a popular upfit for the RAM commercial truck, also including the e-coat primer as well as premium A60 coating-weight steel-construction. Some unique features on this model include a uniquely durable inner tailgate surface and a pressed diamond plate floor.
In addition to its service bodies, other Reading upfits for RAM commercial trucks include the Master Mechanic Series, enclosed bodies, dump bodies, platform and landscape bodies, and custom truck bodies.
Bay Bridge Box Trucks
A final top upfit for the RAM commercial trucks comes from Bay Bridge. This upfitter has more than 30 years of experience and has earned a well-deserved reputation for excellent manufacturing, quality, and reliability.
The most popular upfit from Bay Bridge is the Bay Bridge Box Truck, which comes with features like a step bumper, an LED interior light, a cab-box access door, wall tie-down anchors, a touchscreen, Bluetooth, mud flaps, and multiple customization options. Bay Bridge offers its Classic model as an upfit for the RAM, or you can opt for the FRP, Sheet & Post, or Tool Pro. This allows for multiple options to fit varying needs.
No matter the RAM commercial upfit that you are in search of, you will be able to find it at Paul Sherry Chrysler Dodge Jeep RAM.