How Much a New Commercial Truck Should Cost Your Business
Dump Trucks, Box Trucks, Service Body Trucks, and more
Most people are well aware that a commercial truck will cost more than a regular passenger vehicle. But that does not mean you have a clear idea of how much you need to budget for one. Since there are so many models, configurations, and upfits available, there is a huge range in the cost of commercial trucks. Even so, you can get a good idea of the general price range for a commercial truck as well as the factors that will affect its cost.
Our Current Commercial Truck Inventory Ranges from $22,788 to $79,995
To give you an idea of how much you can expect to pay for a commercial truck, the price of our current inventory at Paul Sherry Chrysler Dodge Jeep RAM ranges from $22,788 to $79,995. Those figures are for new commercial trucks. If you include used commercial trucks as well, our current inventory starts at as low as $13,975. Even focusing on the new trucks, this is still a very large range, so it may or may not answer your pricing questions.
For more clarification, consider price rankings for various commercial truck types. The most affordable commercial trucks tend to be cargo vans like the RAM ProMaster City, which is among the smaller commercial vehicle options but enough for many businesses. Chassis cabs based on the RAM ProMaster are also likely to be on the lower end of the spectrum. Upfitted and converted versions of the RAM ProMaster, like box trucks, tend to be in the higher end of the RAM ProMaster's relatively affordable price range.
The more changes there are from the base version of the RAM ProMaster body, the more expensive it will be. As you approach the middle and higher parts of the price range for our new commercial trucks, you will start finding heavier-duty vehicles. These include variations of the RAM 3500, 4500, or 5500 chassis cab, with or without conversions, service bodies, and other upfits.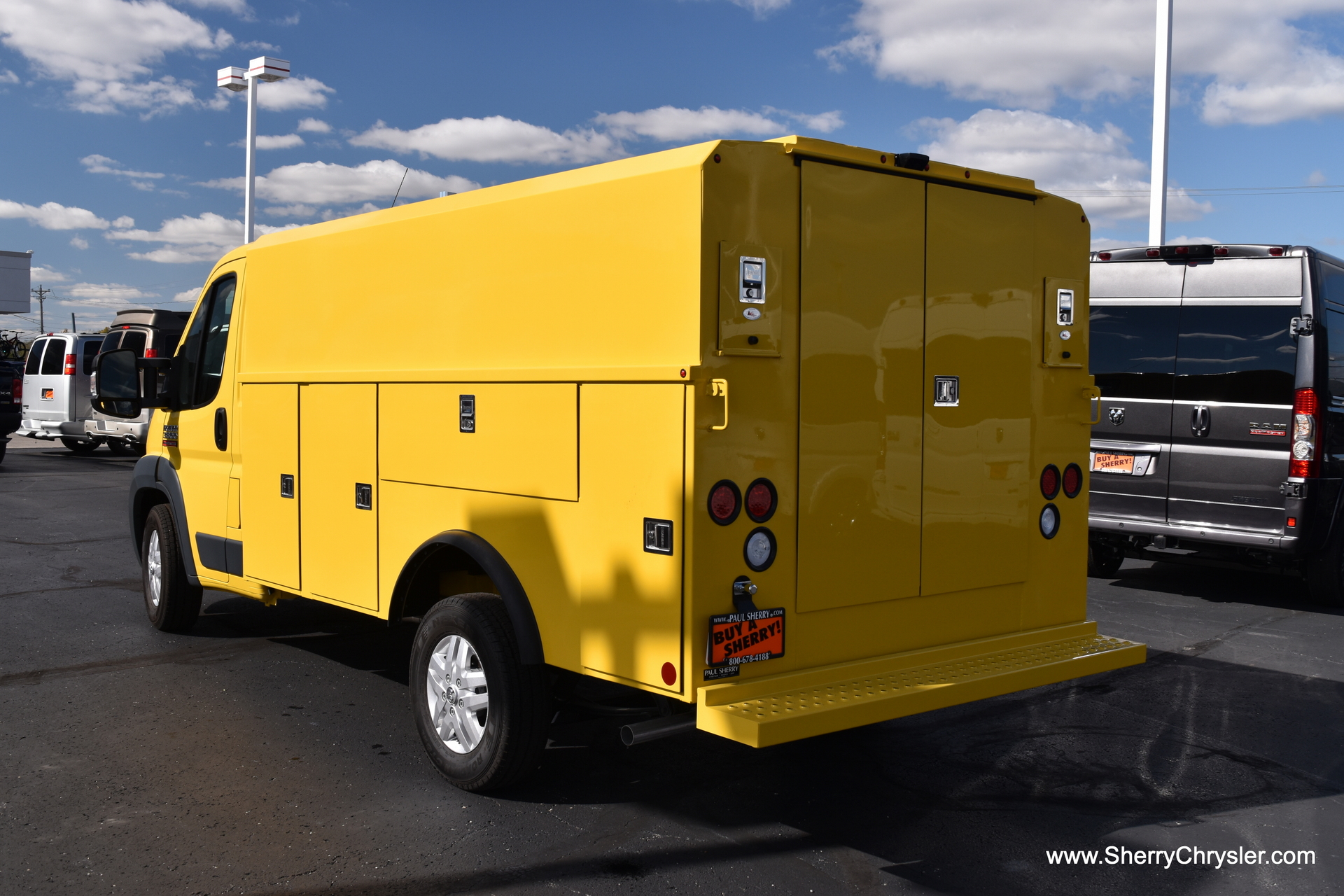 Custom Commercial Trucks Varying Based on Upfit
Keep in mind that our current inventory only gives you an idea of what you can find in a commercial truck and what it will cost. There is also the option of creating your own custom truck. This provides you the flexibility you need to get the type of upfit that works best for your needs, without having to pay for features or upfits you do not necessarily want or need.
When it comes to buying a custom commercial truck, the cost will vary based on your chosen upfit. You can get some idea of pricing variations based on our current inventory. However, the best way to get an estimate of the cost of a custom commercial truck is to consult with a member of our team. This is easiest in person, but we can also assist you over the phone or via live chat.
Available New Commercial Trucks
With a better idea in your head of the general cost of a new commercial truck, you can start thinking about the types of commercial trucks available. We offer the full lineup of RAM commercial trucks, from the RAM ProMaster and ProMaster City to the RAM 1500, 2500, 3500, or 5500 and the RAM Chassis Cab in all its heavy-duty variations. The ProMaster City and ProMaster work well for those who need cargo transportation without heavy-duty needs. Those models also have an extensive number of upfits available as well as variations from respected conversion companies.
The RAM pickup trucks can work well for commercial purposes that require a simple pickup style. The RAM Chassis Cab tends to deliver the most versatility for those who need heavy-duty capabilities. After all, that Chassis Cab is offered as a 3500, 4500, or 5500 version, all of which are extremely heavy-duty and perfect for towing and hauling cargo or other items.
Because we work with RAM, there is also access to the conveniently long list of upfits that RAM has already designed to work for a range of businesses. We can go over the various upfits with you but expect options for every vehicle as well as those dedicated to each industry. Some industries with their own specific upfits compatible with RAM vehicles include agriculture, construction, catering, electrical, landscaping, HVAC, plumbing, telecom, and locksmiths.
Getting an Accurate Cost Estimate
Realistically, the best way to know exactly how much you will spend on a new commercial truck is to begin the process of doing so. You can check whether your budget seems sensible by browsing our inventory or talking to our knowledgeable team. The good news is with the wide range of commercial trucks available; there is something for every business and every budget.