Fleet Vehicles for Sale in Ohio
Your new Ohio business fleet is just around the corner, no matter what kind of trucks and configurations you need. At Paul Sherry dealerships, we have the best variety of fleet vehicles in Ohio in stock and at our fingertips, and we'll help you build the fleet you need to do business.
We offer used and new fleet vehicles to get you what you need within your budget. Although we specialize in RAM fleet trucks, we do offer some fleet vehicles from other manufacturers, like Dodge and Ford.
Your fleet should have everything you and your business need to handle everyday tasks. Our team is ready to explain the process to you and help you with your purchase.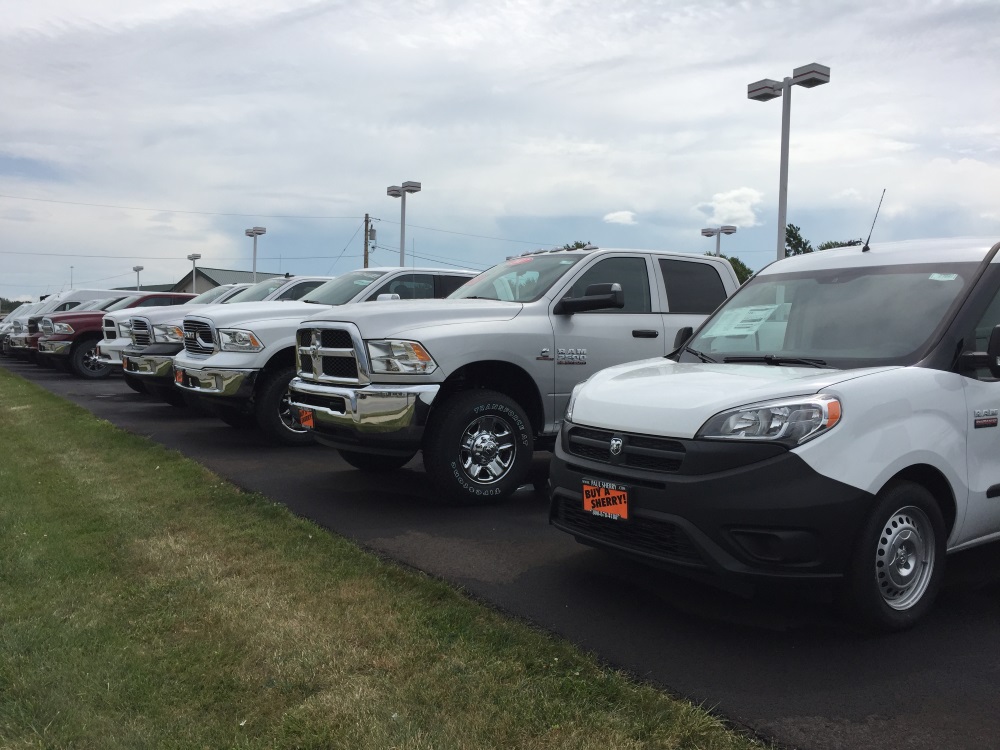 A RAM Commercial Truck for Every Fleet
RAM undeniably has one of the most extensive collections of fleet vehicles in the industry. We bring the expertise and trustworthiness of RAM to your fleet by offering a full range of commercial RAM trucks, from flatbeds and chassis cabs to cargo vans and box trucks. We also offer the full range of RAM pickups, from the 1500 to the 5500, to round out your fleet. Our upfitters include Rockport, Reading, and other top names in the business to ensure that we can get you the fleet your company needs.
Fleet Orders
When you need more than one commercial vehicle for your businesses fleet, you can trust the experts at Paul Sherry Chrysler Dodge Jeep RAM to help. We will work with you to order a fleet of vehicles that matches your business needs, whether they're already on our lot or need to be custom ordered. We strive to make the process as straightforward as possible for you and your team so that you and your fleet can get back to business.
You can begin the process online by filling out our form or contact our dealership at 937-778-0830 to speak with a knowledgeable representative who will explain the process and walk you through it. You're more than welcome to stop in and see us, too, so we can
Custom Order Your Fleet Vehicle
We offer a broad inventory of fleet trucks and vehicles to enhance your fleet. But no two businesses are the same, and we realize that your business may need something a little different. That's why we're dedicated to getting you the exact vehicles you need for your fleet. Whether you need a few different specifications or a significant configuration change, we'll help you get what you want.
The Paul Sherry team knows the ins and outs of each of its fleet vehicles, including their standard features, upfitting options, models, and various configurations. Let us know what you're looking for and how you plan to use your fleet vehicles, and we'll let you know what options you have to get your ideal fleet. Our trained team members will explain the process for custom orders and help you through each step, keeping you in the loop at all times.
Let Paul Sherry Chrysler Dodge Jeep RAM Help You with Your Fleet Vehicle Purchase
The Paul Sherry Chrysler Dodge Jeep RAM dealership is located at 8645 North County Road 25A in Piqua, OH off exit 83 from 75 N. We'd love for you to stop in and see what we have in stock or learn how we can help you get a custom fleet for your business. You can also browse our online inventory of fleet vehicles, including box trucks and chassis cab trucks, to see what's in stock before heading over. We also sell fleet trucks for in the Dayton area!
Did you find what you're looking for? If so, you can learn more about our financing options and begin the financing process by filling out our online application. A team member will reach out to you soon to learn more about you and your fleet needs and go over some options with you. We partner with several banks to get you interest rates and payments you can afford, regardless of your past credit history.
With one of the largest fleet truck inventories in Ohio, we're sure that the Paul Sherry team can get you the fleet you want and need as soon as possible.