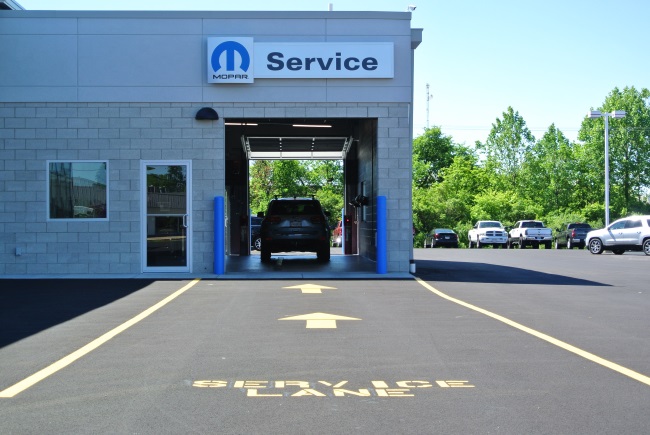 Auto Service Center Hours
Mon:
8am - 5pm
Tue:
8am - 5pm
Wed:
8am - 5pm
Thu:
8am - 5pm
Fri:
8am - 5pm
Sat:
Closed
Sun:
Closed
*The prices below are based on standard consumer vehicles. Larger vehicles may require additional resources for proper maintenance.
Get the oil and filer changed on your vehicle!
 Oil & Filter Change w/ Synthetic Blend Oil
23 Point Vehicle Inspection
Tire Rotation
** Up To 5 Quarts – Excludes Diesel & SRT Products
Diesel Engine Oil Special
Get the oil and filer changed on your diesel-powered vehicle!
Oil & Filter Change
23 Point Vehicle Inspection
Tire Rotation (Excludes DRW)
** Excludes EcoDiesel Models
Save 10% on labor charges!
** On Approved Repairs of $500 Or More
Why Choose Paul Sherry Service
Choosing where to have your vehicle serviced is an important decision, but that doesn't mean it has to be hard. The Paul Sherry Service Center is the premier auto service center in Piqua and the surrounding areas. Our car mechanics are familiar with Chrysler, Dodge, Jeep, and RAM models, as well as other brands. In fact, we are even a 5-Star Chrysler service center, giving you extra confidence in our ability to provide top-notch service.
One Stop for All Automotive Service
Having your vehicle serviced at Paul Sherry makes sense since you will only have to make one stop to receive all the services you need. Whether your Chrysler is due for regularly scheduled maintenance or you are concerned about the brakes in your Jeep, our team can help you. We provide all of the services you could need, from tire rotations and wheel alignments to brake inspections and replacements to oil changes. Visit us for regularly scheduled services; for repairs following an accident; or to investigate an odd smell, sound, or vibration. We always offer competitive rates, so caring for your vehicle at Paul Sherry Service Center is a financially savvy decision.
Only Genuine Parts and Trained Technicians
At Paul Sherry Service Center, we understand that the repairs made to your vehicle are only as good as the parts put in, which is why we always use genuine parts. When you bring your Chrysler, Jeep, Dodge, or Ram to our service center, you can trust that the parts, coolant, oil, and other components that we put into your vehicle have been designed to be compatible and high quality. Our technicians are all highly trained, ensuring that any service we provide will last.Our dealership is easy to find along North County Road 25A, and our technicians are more than happy to explain what they are doing to your vehicle so you have no doubts. Our goals are customer satisfaction and ensuring your vehicle continues to run smoothly for years to come.