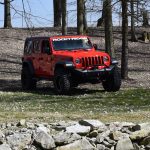 When you head to your local Jeep dealership in Ohio, you will notice some important upgrades to the available Jeeps. Between new technology, styling, and performance, there are plenty of exciting updates worth paying attention to.
Jeep Adds Amazon Alexa
Those who appreciate convenience with their Jeep vehicles will love the addition of Amazon Alexa to the lineup. Now, you can seamlessly use Alexa on your drives, just like you would at home. You can even use your home's Alexa device to interact with the Uconnect system in your Jeep, such as sending directions or turning on your auto.
Alexa made its debut in the 2018 Jeep Cherokee. The functions include locking and unlocking doors, starting and stopping the engine, sending navigation instructions, and checking tire pressure and fuel levels. Don't worry if you don't already have an Amazon Echo Dot since adding the Tech Package to your 2018 Cherokee gives you one to use.
[...]