Paul Sherry Auto Service Center Serving Piqua Ohio
Why Choose Paul Sherry Chrysler Service Mechanics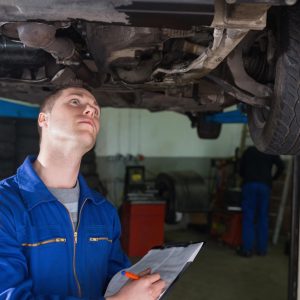 After buying your new or used car, you still need to work hard to make sure that you maintain it. By keeping your vehicle in good working order, you can extend its lifespan and take full advantage of all its features and comforts for the years to come. Instead of wondering where to take your vehicle for regular service and any necessary repairs, bring it to the service center at Paul Sherry Chrysler. Our mechanics will prove to you that you made the right decision as soon as you begin your interactions with us.
Highly Experienced Certified Mechanics
When you bring your vehicle to Paul Sherry Chrysler, you can trust that a trained professional will be working on your vehicle. All of our mechanics have extensive experience and are certified, giving you the confidence you need to trust their work. Since our mechanics are trained and certified, we always use the latest techniques and are prepared to spot any issues with your vehicle. Our familiarity with Chrysler, Dodge, Jeep, and RAM models, in particular, helps us quickly notice these problems before they become serious, saving you time and money. Our experience also allows us to complete basic tasks, like oil changes, tire rotations, and even complete inspections, in a timely manner.
Only Authentic Mopar Parts
At Paul Sherry Chrysler, our mechanics only use authentic parts from Mopar, the official producer of parts and accessories for Chrysler, Dodge, Jeep, and RAM. Since we always use these Mopar parts, they are guaranteed to work with your model; after all, they were designed with it in mind. You are able to trust the quality of the parts in addition to the repairs done, letting you know that you won't have to repeat the process anytime soon.
An Excellent Reputation
You will notice that we have a great reputation at Paul Sherry, and we have worked hard to build this reputation over the years. We will never try to rip you off by encouraging unnecessary services, which is part of the reason drivers keep coming back to us. Our friendly technicians are even willing to explain the issues we find so you understand why the suggested repairs are necessary.
Convenient Location
Best of all, our service center is conveniently located right here in Piqua, Ohio. We are right along North County Road 25A, so you can find our dealership with ease and get here quickly from anywhere in the surrounding area. For those coming from other areas, we are just a few minutes from Interstate 75, making our location convenient no matter where in this portion of Ohio you are.