Benefits of Buying a New Jeep Grand Cherokee L Ohio
August 5, 2022

Posted by

Alysia
Comments Off

on Benefits of Buying a New Jeep Grand Cherokee L Ohio
Jeep is a brand that is renowned for its off-roading and 4×4 vehicles. Their foray into the SUV space was a success and today, the Jeep Grand Cherokee L is synonymous with luxury, class, and style. But why exactly should you buy this new vehicle? At Sherry Chrysler, we have helped hundreds of individuals and families drive away in their dream vehicles. Let us help you decide if the Jeep Grand Cherokee L is right for you by explaining some of its many benefits.
The Benefits of Buying a New Jeep Grand Cherokee L
There are a number of reasons why the Jeep Grand Cherokee L Ohio is a superior SUV choice, but we wanted to highlight a few. The three benefits of buying a new Jeep Grand Cherokee L in Ohio are the superior safety features, the sleek and modern design, and the technological advances. 
Superior Safety Features
Safety is a primary factor for many individuals purchasing a Jeep Grand Cherokee L. This is because many individuals choose this SUV for it's off-roading abilities and it's family-friendly design. This Jeep does not disappoint. With standard safety features such as adaptive cruise control, active lane management, collision warning with active braking, a rearview backup camera, and blind spot monitoring. In addition to these standard features, the Grand Cherokee L offers multiple available safety features that make you feel even more secure in your vehicle. These available features include:
360º Surround View Camera
Night Vision
Intersection Collision Assist
Drowsy Driver Detection
Parking Assist

 

Traffic Sign Recognition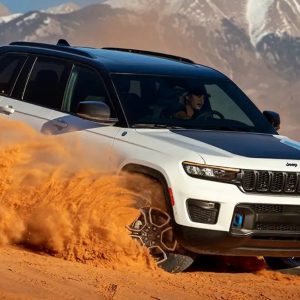 Sleek and Modern Design
With all of these amazing safety features, it may come as a surprise that the Jeep Grand Cherokee L Summit Model was awarded the Most Luxurious Vehicle in its Class. With three rows of seating, and luxury trim packages containing interior ambient lighting, massaging front seats, quilted leather upholstery, and wood trim, it is no wonder why this is the most comfortable and modern SUV available. This dedication to luxury doesn't stop with the interior, the Jeep Grand Cherokee L comes with sleek chrome accents that catch the eye and also offers an all-black package that offers black accents and black 20-inch wheels. All of these aesthetic features are designed to make your vehicle unforgettable on the road.
Technological Advances Like Never Before
Every inch of the Jeep Grand Cherokee L is designed to offer the best technology available. With a standard 8.5-inch touchscreen, the Jeep Grand Cherokee L starts with superior technology and offers even better features. Some of these include a front-passenger screen, a 10.1-inch infotainment screen, a wireless charging pad, a digital rearview mirror, premium sound systems, and two 10.1-inch screens mounted to the back of the front seats for rear-seat entertainment. 
Custom Ordering a Jeep Grand Cherokee L Ohio
Get the technology, color, drive, engine, and everything you want by custom ordering your Jeep Grand Cherokee L. As a certified Jeep dealership, Sherry Chrysler has access to all of the amazing factory ordering options you can imagine. Instead of waiting for the perfect Jeep to find its way to you—order it directly to you. This allows you to choose the specific features, trim package, and additional options that you are looking for in your new Grand Cherokee L. Plus, when you factory order, you gain access to factory-direct pricing and faster manufacturing times—ensuring your new vehicle gets to you quickly and at a cheaper price. 
Discover an Amazing Buying Experience at Sherry Chrysler
At Sherry Chrysler, we pride ourselves on our superior customer service experience. Our sales team will work with you to create, design, and order your Grand Cherokee L and ensure that it is created and delivered in a timely manner. Meanwhile, our finance team will work to gather you with a variety of competitive financing options that fit into your budget and lifestyle. And because we truly believe our customer experience can't be beaten, we offer to help individuals online as well. That's right, if you see a vehicle you want on our dealership website, we will work with you to get it delivered right to you. 
So, if you are ready to purchase your new Jeep Grand Cherokee L in Ohio, stop by our Piqua dealership, visit us online, or call Sherry Chrysler today at 937-778-0830.