Jeep Wagoneer vs. Chevrolet Tahoe: How Do They Compare?
October 27, 2020

Posted by

Ryan
Comments Off

on Jeep Wagoneer vs. Chevrolet Tahoe: How Do They Compare?
The full details for the new Jeep Wagoneer are soon to be released, but it's already proving to be a strong competitor for the Chevrolet Tahoe. Both three-row SUVs, these vehicles are loaded with features for comfort, convenience, and safety for the family. With impressive towing capacity, they may also be two of the more versatile large SUVs on the market. 
2021 Jeep Wagoneer vs. Chevrolet Tahoe Differences and Similarities
There's no doubt that the new Jeep Wagoneer is set to rival the Chevrolet Tahoe as incredible capable and exciting three-row SUVs. Both vehicles are highly anticipated models for this year, but how do they compare?
Here's a quick rundown:
Interior
The interiors of the Chevy Tahoe and Jeep Wagoneer are probably the most similar features between the two. Both SUVs come with a plethora of technology and comfortable seating features inside the cabin.
The Chevy Tahoe will come with a 10.2-inch touchscreen infotainment system, Amazon Alexa connectivity, an available rear-seat media center, and a power-sliding center console to give passengers a convenient, hidden area for extra storage.
The Jeep Wagoneer is still under wraps, but its luxury sibling, the Grand Wagoneer, is set to get 45 inches of total display surface, including a 12.1-inch touchscreen and a 10.25-inch touchscreen passenger display. The Wagoneer may not include the passenger display, but a 12.1-inch primary touchscreen is likely.
Other interior features to expect for the Wagoneer include elegant seating materials, ambient lighting, and different seating configurations to allow between seven and nine passengers.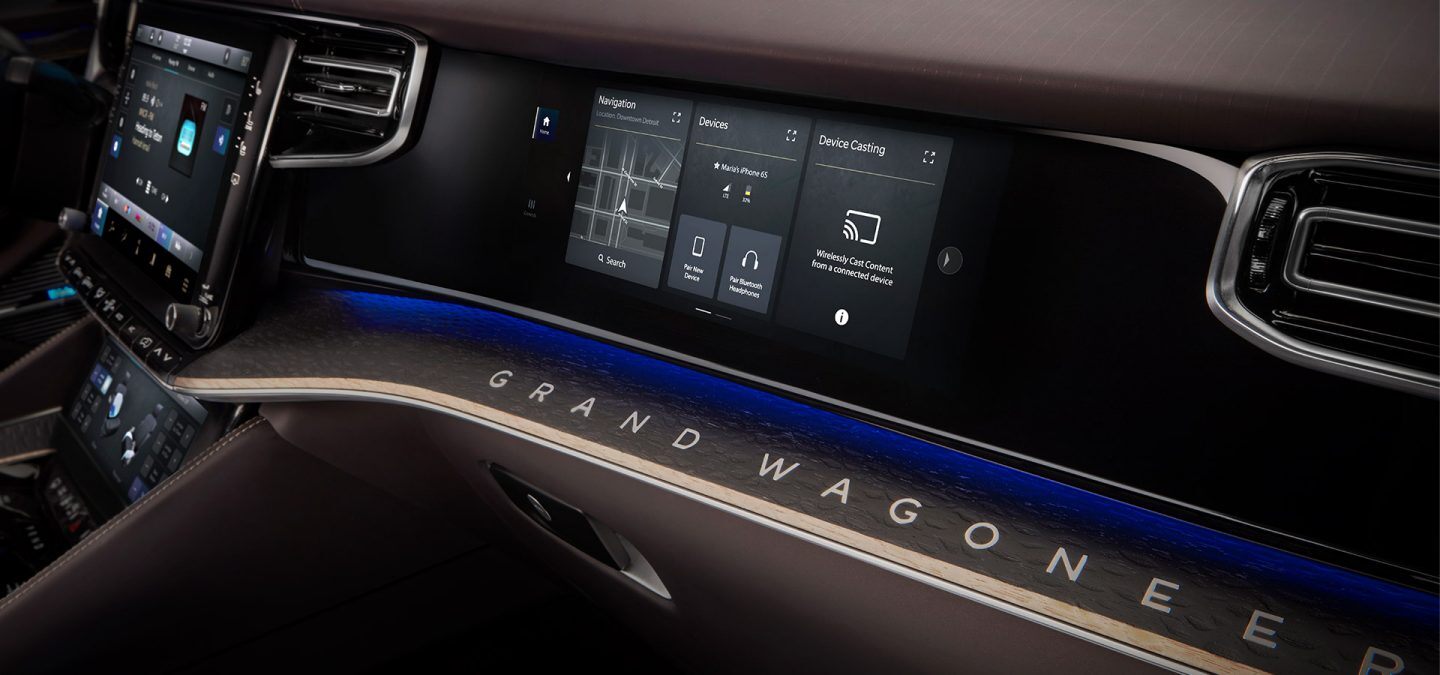 Exterior
Although photos of the Grand Wagoneer concept have been released, we have yet to see a concept of the Wagoneer, but it will probably have similar bold styling. The Grand Wagoneer is sharp and elegant with chrome accents, LED lighting, and large windows for a clear view for all passengers. 
The 2021 Chevrolet Tahoe is a bit more understated without many noticeable exterior changes from its previous model. LED lights and a bold front grille come with each model, while available 22-inch wheels and a panoramic power sunroof make for some eye-catching upgrades.
Safety
Because the Jeep Wagoneer and Grand Wagoneer are designed to be on the luxury end of Jeep's lineup, we can take an educated guess that they'll come loaded with driver assistance features and options to improve safety. 
The newest Jeep Cherokee models come standard with the ProTech 1 package that adds a rear backup camera, blind-spot monitoring with rear cross-path detection, and rear parking assistance, for example. It wouldn't be surprising to see a similar package standard on the 2021 Jeep Wagoneer.
On the Chevrolet Tahoe, you'll get standard automatic emergency braking and forward collision assistance. However, you'll need to opt for a higher-end model to get available safety features, like lane departure warning and blind-spot monitoring. 
Performance
One of the most exciting features for both the Jeep Wagoneer and Chevy Tahoe is their towing capabilities. Chevy has released information about the Tahoe's towing capacity, noting that it can tow up to 8,300 pounds with the right powertrain (an incredible 6.2-liter V-8, the model's highest performer). 
Jeep hasn't yet given us the exact specs for the Wagoneer's powertrain, but experts expect it to take on many of the same capabilities as the RAM 1500 foundation Jeep bases it on. That means that we could potentially see a tow rating as high as 12,750 pounds. However, because the Wagoneer is an SUV and not a pickup truck, Jeep will likely make some adjustments that could lower the rating. 
Still, Jeep has mentioned that the Wagoneer will have "unmatched" towing capacity for its class, so it's not too far-fetched to expect a rating of around 10,000 pounds or more.
Shop the 2021 Jeep Wagoneer
The new Jeep Wagoneer will release in mid-2021, and Paul Sherry Chrysler Dodge Jeep RAM is excited to welcome it to our inventory. You can give us a call or stop in to learn more about what we expect from the Jeep Wagoneer and Grand Wagoneer and find out about our financing and buying process. You can even fill out a car loan application online to see how we can help you finance your purchase and get your ducks in a row before the Wagoneer hits the lot.