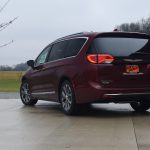 If you are interested in a fuel-efficient family-friendly vehicle, then the 2018 Chrysler Pacific Hybrid offers an excellent choice. One of the few hybrid vehicles on the market designed with families in mind, the Pacifica Hybrid builds on the non-hybrid version, adding efficiency to an already extensive list of features.
Stow 'n Vac Vacuum
Parents know that messes are bound to happen, no matter how careful you are while eating inside your van. The Stow 'n Vac vacuum in the Chrysler Pacific Hybrid is a standout feature that makes cleaning up crumbs and more a breeze. The vacuum is completely integrated and from RIDGID. It sits by the driver's side of the car near the second row and even has a removable debris drawer. The included hose attachments let you reach every spot of the Pacifica.
Stow 'n Go Seating and Storage
The 2018 Chrysler Pacifica Hybrid and its non-hybrid counterpart are the only models [...]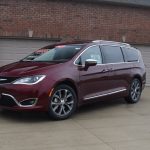 As a completely new model, the 2017 Chrysler Pacifica has been getting a lot of attention in Ohio and is the source of numerous queries for more information. As much attention as the Pacifica has been getting, the new Pacifica Hybrid has received even more since it is the first minivan of its kind, offering an option for drivers across the country who want room for their entire family and fuel efficiency. Most questions tend to center around its hybrid powertrain, but you may also be interested to learn more about what separates the Pacifica Hybrid and regular Pacifica from other minivans on the market.
Does It Take Gas? Do I Need to Plug It In?
As the first ever hybrid minivan sold in Ohio, it makes sense that the average person has questions about what the Chrysler Pacifica Hybrid runs on. It is a plug-in hybrid, which means that it will take gas and [...]