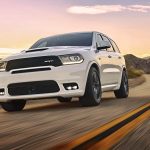 The 2018 Dodge Durango has arrived at local Ohio dealerships, including Sherry Chrysler. With this updated version of the family-friendly SUV on the lot, it is time to make sure that you are familiar with its features and what separates this model from the previous model year. As always, the Durango is the largest SUV in the Dodge lineup, featuring your choice of two or three rows of seating. There is also the familiar choice of rear-wheel drive or all-wheel drive.
New SRT Trim
Perhaps the biggest news for the 2018 Dodge Durango is the addition of a new SRT trim level. This trim gives you a 6.4-liter V8 powertrain that delivers 475 horsepower and lets the SUV reach 60 mph from a standstill in only 4.4 seconds. It only takes 12.9 seconds for the new Durango SRT to complete the quarter mile. In addition, this trim is ready to tow 8,600 pounds.
Improved Standard [...]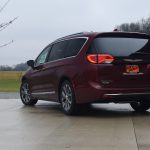 If you are interested in a fuel-efficient family-friendly vehicle, then the 2018 Chrysler Pacific Hybrid offers an excellent choice. One of the few hybrid vehicles on the market designed with families in mind, the Pacifica Hybrid builds on the non-hybrid version, adding efficiency to an already extensive list of features.
Stow 'n Vac Vacuum
Parents know that messes are bound to happen, no matter how careful you are while eating inside your van. The Stow 'n Vac vacuum in the Chrysler Pacific Hybrid is a standout feature that makes cleaning up crumbs and more a breeze. The vacuum is completely integrated and from RIDGID. It sits by the driver's side of the car near the second row and even has a removable debris drawer. The included hose attachments let you reach every spot of the Pacifica.
Stow 'n Go Seating and Storage
The 2018 Chrysler Pacifica Hybrid and its non-hybrid counterpart are the only models [...]