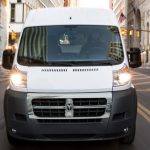 No matter the type of business you have, the RAM ProMaster can be the perfect solution. You can enjoy it as a cargo van or a passenger van, letting you move people and/or products around the country with ease.
Carry All Your Product
For companies that sell items and need to bring their product around the state or even country, the RAM ProMaster will deliver everything you need. This van is capable of towing as much as 5,100 pounds and it has the best-in-class standard V6 horsepower. When all is said and done, you have a cargo capacity of 460 cubic feet, more than enough for the average company and a maximum payload capacity of 4,420 pounds.
Bring Your Employees or Visitors
If you are a company that frequently conducts group training or workshops off site, the RAM ProMaster can be the perfect way to get everyone there in a single vehicle. Or, if you [...]