Posted by

Ryan
Comments Off

on 5 Reasons Dayton Businesses Should Buy Their New Commercial Truck From Paul Sherry
Is your business looking for a new commercial truck, cargo van, or box truck? Paul Sherry is here to serve you. Paul Sherry has been serving Dayton area businesses with commercial trucks, cargo vans, custom commercial upfits, box trucks, heavy-duty trucks and more, for over 50 years. But, if that isn't enough to prove to you that we can help, here are five reasons that Dayton businesses should buy their new commercial truck from Paul Sherry.
Largest Inventory in Dayton Area
Paul Sherry has the largest inventory of commercial trucks in the Dayton Area. That means that any truck you are looking for, we will have. Our inventory includes RAM 1500 through 5500 trucks! And if that doesn't give you enough to choose from, you can also custom order your commercial truck with Paul Sherry. This means that any upgrades or changes you want to make to your commercial truck, we can make them for [...]
Posted by

Ryan
Comments Off

on Best Upfits for RAM Commercial Trucks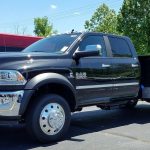 RAM commercial trucks are made to last and be incredibly versatile, helping businesses in a range of situations. To make the most of a RAM commercial truck, we suggest choosing a model with an upfit or having one installed on your commercial truck. There are dozens of companies around the country offering upfits for these RAM trucks but some of them stand out from the others. Take a closer look at the best upfits for these commercial trucks.
Knapheide RAM Commercial Upfits
Knapheide Manufacturing Company has a truly impressive history spanning 170 years, making it among the oldest companies in the industry. This rich history began in 1848 when the family company began building wagons. Over the years, Knapheide has gone through six generations and has continued to use advanced processes, the best workforce in the industry, and superior products. Now, Knapheide produces many different upfits for vehicles, including the RAM commercial trucks.
Among the [...]